9 things you can implement today to double your hotel revenue in 2019
2018 was a good year for hoteliers in terms of occupancy rate. Global tourism industry flourished and tourist destinations across SEA were flooded with a huge influx of foreign tourists. However, there are certain aspects that indicate an alarming trend. Despite an increase in occupancy rate, properties in 2018 have recorded comparatively low hotel revenue due to low ADR(average daily rate). This curious case of low ADR can be attributed to cutthroat competition and an increase in supply in the highly saturated hospitality industry.

General managers, Revenue managers, marketing teams and sales managers are actively looking for unconventional ways to stay ahead of the game. Hoteliers have also started to realize it is humanly impossible to reach and communicate with every guest at every stage of the guest life cycle due to the increasing cost of labor and technology is the only way ahead to do this at a substantially low cost.
Here are a few things you can implement today to see huge differences in guest satisfaction and hotel revenue in a few months.
1. Focus on your upsell revenue:

Upselling is a neat way to open up possibilities of generating a significant amount of ancillary revenue via upgrades, cross-selling. According to a recent report, more than 40% of guests are willing to prebook upsells such as room upgrades, restaurant, spa etc if they receive a communication from the hotel.
Another survey says guests prefer email to be the most effective medium of communication for hotels. Hotels should not be afraid of sending more than one email before guests arrive ie, a welcome email and an email with upsell offers. Guests look forward to receiving communication from hotels they have booked. The email open rate of pre-arrival communication is more than 72%. It is the best medium to put your communication and upsells through.

According to our research in 2017, hotels that use automated upsell tools, have seen an increase in upsell revenue by 300%.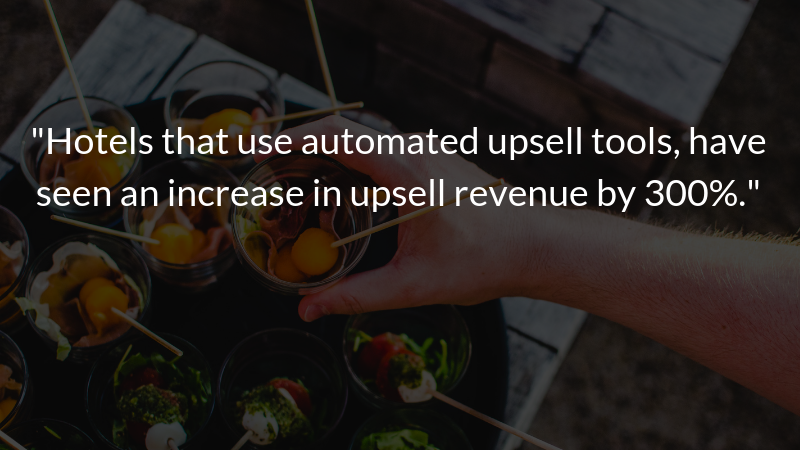 2. Save OTA commission with direct booking:

One of the primary problems that hotels face is the over dependency on OTAs. A recent study by Phocuswire found that average hotel website conversion rate is typically below 2%, which is why, even after spending a huge amount of money on websites, advertising and SEO, hotels pay 15-40% commission to OTAs. If you are really planning towards taking your hotel revenue two folds higher, you cannot afford to pay such a large commission to OTAs.

However, as OTAs are increasingly becoming more and more important, hoteliers must figure out how to increase their direct bookings while capitalizing on the distribution potential of OTAs to the full extent. Your dependency on OTA should not be more than 40%.

With the latest hotel specific marketing Automation tools, it is possible to acquire guest data from various touch points and then run personalized incentive and loyalty campaigns to build guest loyalty. With the correct incentives, you can sway your loyal base's opinions towards booking directly from your website instead of OTAs.

One way to get more direct bookings is to focus on guests who have stayed at your property. Send personalized messages to the guest based on their preference and stay history. If you touch the right string, the guest will definitely book or recommend your hotel to their peers.
3. Reduce Negative reviews from being posted online

If hoteliers can send the guests personalized messages during their stays, asking them about what issues are they facing and how their experience has been so far with the help of a guest messaging apps, the number of negative reviews would go down by a significant margin.

A little attention from the authority comes across as a token of appreciation and attention towards the well being of the guests and it helps the hotel reduce the numbers of negative reviews by a significant margin.

Research has shown that 83% of guests will not write anything negative about the property if the hotel just asked them if they had any issue during their stay.



4. Boost TripAdvisor Ranking

Another way of boosting your hotel revenue is by focusing on TripAdvisor ranking. Higher rank on TripAdvisor means higher occupancy rate and more ADR through online bookings.

Remind your guests to leave you a review. You can do so at the time of check-out or you can send an email after guest checkout. You can even send gentle email reminders urging the guests to leave a review.

Repup has a proprietary solution to collect TripAdvisor reviews at the hotel during checkout. Through our platform hotels have seen up to 100% increase in reviews every month.

Less of negative reviews & increased review volume lets your property climb through TripAdvisor ranking ladder with relative ease and subsequently increase your hotel revenue by boosting your occupancy rate.


5. Do more with less staff

Another way of boosting up your hotel revenue is by cutting costs. Marketing automation tools once set at the property can take care of upselling, review collection, post stay marketing, review analysis automatically without any human effort.

In the layman's term, it can help you do much more efficient work with less staff, causing a cut in total costs and increase in productivity.

6. Personalize or Die

Personalization has become the most important aspect of the hospitality industry as sending relevant marketing contents to relevant guests have become the key to satisfying guest experience.

Creating unique and personalized guest profiles with the data acquired from various touch points is the single most important step that you can take. This means your guests will receive messages/emails that are tailored according to their respective requirements. Personalized communication pre and during stay based on guest preference and history can lead to 43% increase in upsells.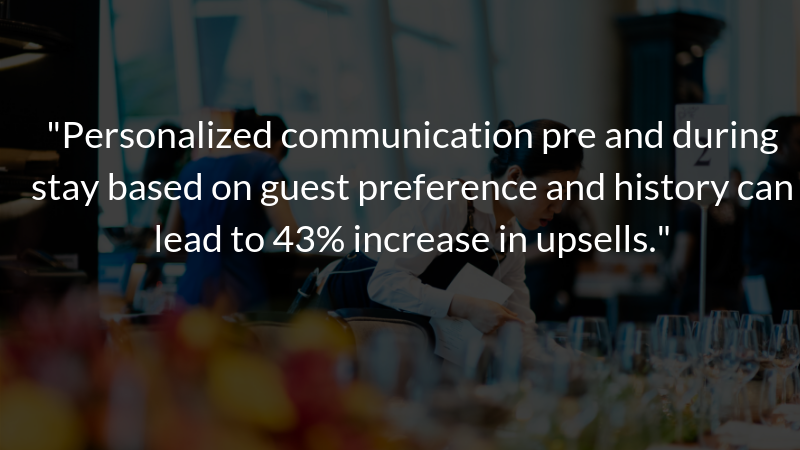 7. Focus on a seamless guest experience

A consistent and seamless guest experience at every stage of the guest life cycle can build your hotel's brand loyalty and do wonders for your property.
To help guests, hotels can send an automated welcome email that looks personalized. Hotels can also start collecting guest preferences, accept web check-in, provide a mobile concierge that show details of the city and the hotel.

During the stay, based on the guest stay history and preference collected during pre check-in, hotels can offer a personalized experience. Every guest-facing staff should have access to basic information of the guest, ex-guest name, the names of the children, what cuisine guest like etc.
8. Be Marketing Ready every single day

A hotelier must be quick on his feet when it comes to deploying a marketing campaign. As soon as your occupancy drops run targeted campaigns to get some juice out of guest who has previously stayed with you. It is imperative that you clean your guest database regularly and get rid of obsolete, unresponsive contacts.

Also, make sure to sell the destination alongside your hotel. Most of the travelers decide a destination first and then move towards choosing a hotel, you have to keep in mind to use the appeal of the local destinations alongside your hotel while creating a marketing campaign.
9. Give power to the guest

Every hotel in this digital world should have a mobile concierge that can be offered to guest with the welcome email before the guest check-in. A digital concierge can help guests to see all the hotel amenities and upsells available with details of the hotel.

Repup provides a guest experience tool that can help you upsell to guests, get more reviews, run personalized campaigns, communicate with guests through one interface. Our solution lets you reach full potential without any additional manpower.