5 Reasons Hotels Fail to Get Direct Bookings
Hoteliers all over the world are struggling to win back guests from OTAs. A study by Phocuswire found out that average hotel website conversion rate is typically below 2%. So, if a 100 people land on your website on any given day, only 2 will actually make a reservation via your on-site direct booking engine and more than 98 people will leave to either make a deal with your competitors or on OTAs. Which is why, even after spending a huge amount of money on websites, advertising and SEO, hotels fail to generate direct bookings and lose 15-20% commission to OTAs.
The situation is much more serious in the Indian market where OTAs like MakeMyTrip or Goibibo, are taking away 20% to 45% of commission from hoteliers.
OTAs are equally important in today's era. Instead of putting all the eggs in one basket, hoteliers must figure out how to increase their direct bookings while capitalizing on the distribution potential of OTAs to the full extent.

Below are a few of the top reasons why hotels fail to generate direct bookings:


1. Poor Quality of the hotel website and missing trust factor

One of the most crucial things to keep in mind while creating a hotel website is how it would look on a mobile device. With more than 60% of visitors accessing the website from their phones, it is imperative to ensure that the website loads easily and is properly optimized for mobile devices.

The website must be equipped with a proper booking engine as well as features that make the booking experience seamless and easy. Hotels need to make sure the website is the end stop for any hotel or travel related query.
It is necessary to put guest experiences on your website in the forms of guest testimonials or reviews. This increases the trust and the goodwill of your brand. The missing trust factor is one of the major reasons why almost 80% of guests, despite checking your official website, prefer to book from OTAs.

Whether you have any room types that are not listed on OTAs or not? How does your hotel stand out from competitors? What are the unique value propositions of your hotel?

Remember, guests are always looking for something unique to catch their attention!


2. Lack of attention to Guest reviews

What you have to pay attention to is – in this digital age, you are not just selling a room, breakfast or an overnight stay. Go beyond your room bookings and give the guests what they are truly looking for – a unique guest experience.  Paying attention to guest communications and listening to what they are saying is the very basis of delivering these promises.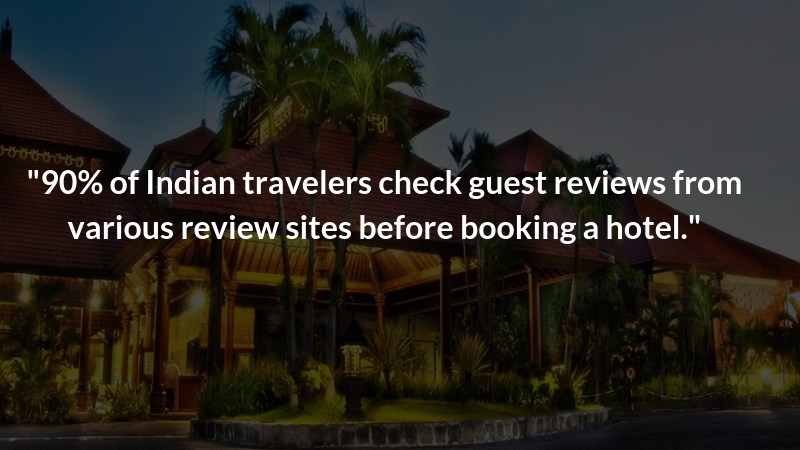 Guest reviews create an enormous impact on guest decisions. Research have shown that 90% of Indian travelers check guest reviews from various review sites before booking a hotel. Not being able to effectively leverage guest reviews or testimonials is one of the primary reasons behind the low conversion rate of hotel websites.

The hotel website should have a guest review feature on the landing page. Preferably a place where it is easily visible. Third party reviews are often considered the most important as the guests perceive them as unbiased and honest. Leverage the power of guest reviews to sway guest opinion and compel them to book from your website.


3. Lack of incentives to Book Direct

Let us be honest. The major reason behind the OTAs success is that they provide competitive pricing. You can't expect guests who feel comfortable with booking on OTAs to change and switch to direct booking unless you can provide a better value for their money.
Having the best price or the best value for money is not always enough. You have to convey that message in such a way that will persuade your online visitors to think booking online is the most profitable option.
The best way to do this is by introducing incentives. Provide complimentary breakfasts, add a 15 minutes spa during their stay, add a free drink; whatever suits your budget and cost-benefit equation.
When prospective guests are visiting your hotel's website, do everything that you can to help them understand that booking directly from the website is the best option for them.

4. Lack of Marketing and Online Visibility
Outsourcing and diverting marketing work is one of the most important reasons behind the failure to generate direct bookings. As a property owner, you must set up an in-house marketing team that is familiar with the property an all its unique selling points.
You have to remember Direct Bookings will only work if there is a substantial amount of guest traffic on your website. A dedicated marketing team working solely towards website traffic and SEO fine-tuning is a must have.
5. Not being attentive to loyalty building
Building and maintaining a loyalty program is one of the most powerful ways to win back guests from OTAs and boost your direct bookings. Acquire guest data from various touchpoints and run personalized & automated marketing campaign based on different guest segments. Offer tangible benefits for your loyalty program such as free brunch, gift packs etc and you will see the benefits in the long run. Make sure to mention the perks of direct booking as a loyalty member.
For guests who are still not members of your loyalty program, target them with personalized email marketing. For example, Offer benefits such as "Sign up now and get 70% off at the bar for an evening. Make the sign-up process easy, and with proper targeting, so you can grow your base of loyal guests with relative ease.
In the end, the amount of money you pay to the OTAs as commissions can be used to build a proper loyalty building program that will help your property in the long run.


Xperium makes it easy for hotels to conduct personalized email marketing campaigns and boost loyalty that help increase direct bookings. Click here and schedule a demo with our experts for more information.