The Ultimate Guide to Guest Experience Mapping
Customer experience mapping isn't new. In fact, it's commonly used in consumer marketing but despite its tremendous benefits, most businesses perceive it as something only large corporations can adopt.
Think about Google. Isn't it a great company? What about Apple, Amazon and Starbucks? You love them too.
In contrast, there are companies that you don't love much. What do these companies do differently that makes you love them? Still guessing?
They all deliver a consistent customer experience across all points of interaction (we can call these touchpoints).
Whether it is their advertisements, website, mobile app, emails or customer support, you'll feel that unified experience everywhere.
Here's how Google nails it:
– gets you routes via Google Maps while you travel offline (a navigational touchpoint)
– answers your questions via Google Search while you browse online (an informational touchpoint)
– serves you contextual ads based on your browsing history via Google Adsense  (a contextual touchpoint)
– optimizes search results based on your device – mobile, desktop or tablet and the speed of your internet connection. (a device touchpoint) 
This doesn't happen by accident. As a search engine company with the goal to help you find what you are looking for, Google has mapped your digital journey over the years to design services to offer you help at various touchpoints in a seamless manner.
Their business is different. Their customers are different. But the business fundamentals they use don't change for you. As a hotelier, you too can learn by mapping your guest's journey and figure out how to provide unique customer experience at every touch point in a seamless manner.
Guest experience mapping encourages you to look at the entire lifecycle of your guest. It's a comprehensive view of their experience that you map on various points of contact between your hotel and your guests.
There can be various guest touchpoints where there can be friction in the experiences. The guest journey map is a tool that allows you to identify these gaps. These might be:
gaps between departments (where the guest can get frustrated)
gaps between channels (where the guest switches to a different interaction point)
gaps in your marketing, sales and service processes (where it can affect the guest behavior)
What is Guest Experience Mapping?
Guest experience mapping (sometimes also referred to as Customer Journey Mapping) involves researching and detailing the steps a guest takes to move through from consideration of purchase to booking the room to checking-in to checks out of your hotel. It's a systematic and comprehensive view of their experience that you can summarize in a customer experience map at various touchpoints.
Built with a bit of information gathering through guest feedback, reviews and some other data points, a guest experience map can help make hotels take better decisions faster, bring in operational efficiencies and help create the kind of experience you want to give to your guests.
The mapping process isn't only about improving reviews and decreasing wait times alone but it puts you in your guest's shoes so you can understand and enhance their experience. And better guest experiences are critical to the success of your hotel.
Hotel reputation management tools like Repup are extending information collection and turning what used to be an overwhelming flood of information into actionable insights. This understanding about your guests is extremely powerful and would eventually separate a good hotel from a great one.
What are possible guest touch-points and how to identify them?
Identifying guest touchpoints is something that requires both analytical and anecdotal research and discovery.
Analytical Research involves data from website analytics, channel-specific reviews and ratings, and social media.
Anecdotal Research involves customer/guest anecdotes about their experiences. These can be gathered through guest surveys, guest interviews and guest feedbacks.
These two ways of research and discovery help map the what guest is usually doing, thinking and feeling at various touchpoints with your hotel.
For instance, if you have a check-in process where guests have to fill a form when they arrive then maybe you discover that your guests feel you never have pens that work, or that your waiting room has no decent reading material to facilitate a good waiting experience.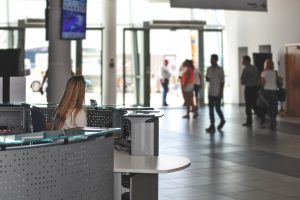 Possible guest touch-points of the hotel can be at the Front Office, Housekeeping, Restaurant, Service Waiters, Maintenance Department etc.
Today, customers are increasingly choosing products and services based on the quality of the experiences they have with them. Therefore, it is imperative to have a holistic and customer-centered view of the experiences you might create for your guests. In short, this is the output of the guest experiment map.
The various touchpoints are attached to an Activity & Task and that already have a Feeling & Thought attached to it.
With advancement in technology and increasing competition in the market, customer expectations have moved upwards. It is, therefore, important to place emphasis on the interconnectedness of channels and touchpoints that support customers attempting to satisfy their goals and needs.
Smart hoteliers have realized a lack of interconnectedness is a major competitive risk and are already working on re-engineering their services to manage multiple touchpoints in multiple phases that add up to a differentiated guest experience.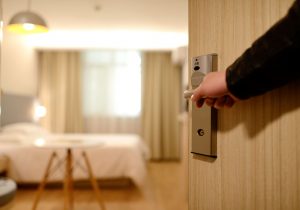 Conclusion:
A customer experience map is a strategic tool for capturing and presenting key insights of the complex guest interactions that occur at a myriad of guest touchpoints with the hotel. The guest experience mapping has no set form as long as it the guest's story remains front and center in it and it maps the complete guest journey.
The activity of mapping builds knowledge and consensus across teams and stakeholders, and the map allows you and your entire team to create and support better guest experiences. In short, experience mapping is a journey that can involve and impact your entire hotel functions and operations.
If you are thinking about mapping the experience of your guest's journey, do let us know if you need any help and suggestions. Schedule a call with our team and sign up for a free demo.